Nathan Kress is a television actor from the United States. Nathan Kress is best known for his role as Freddie Benson on Nickelodeon's "iCarly," which has become one of the network's most successful tween sitcoms. He was also cast in the Nickelodeon cartoon series "Pinky Malinky" as a voice actor.
Nathan Kress's Childhood
Nathan Kress was born on November 18, 1992, in Glendale, California, United States. He is 29 years old and born under the sign of Scorpio. Nathan Karl Kress is his full name and he is an American citizen.
Steven M. Kress is his father's name, and Allison 'Rita' Kress is his mother's name. He also has two brothers, Kevin and Andrew, who are not involved in the film and television industry. Aside from that, there is no knowledge of Nathan's other family members, such as his grandparents, cousins, or anybody else, till today.
Nathan Kress's Career
When it comes to Nathan's upbringing, he was only three years old when he was able to memorize and enact the conversation of various individuals he saw on television, as well as move to a high degree of precision. His mother took him to an audition for actors who could recreate memorized roles, and he was picked up by a talent agency as a result. Nathan was subsequently allowed to model for print commercials for the following three years. At the same time, he appeared in a slew of commercials and did voice-over work, the most notable of which are the characters of Tough Pup and Easy in the feature film Tough Pup and Easy and in the film "Babe: Pig in the City" in the year 1998.
He did, however, take a hiatus from acting when he was six years old. He went back to his previous school to finish his education, which he did for the following five years. When he was eleven years old, he landed the main part of Emperor in the school performance "The Emperor's New Clothes." Nathan's passion for pursuing a career in acting was reignited by this part. Furthermore, one of his classmates introduced him to a talent agency. This agency was able to assist Nathan with attending a summer acting school and auditioning for professional actors.
In the year 2005, Nathan Kress had his first appearance on television in a comedic sketch on the show "Jimmy Kimmel Live!" Following that, he featured in five other comedic sketches on the same show. He was able to guest star in a variety of television shows for another two years, including Without a Trace, House MD, Standoff, and The Suite Life of Zack & Cody. Magnus, Pickled, Bag, and Inc. were among the short films in which he appeared.
Nathan Kress, on the other hand, was able to continue working in voice-over roles. He has provided voices for characters in animated films such as Chicken Little and Shuriken School. In February 2006, he debuted in the popular family series "Drake & Josh." Following that, he auditioned for and was cast in the part of Freddie Benson in "iCarly." After then, he appeared in a number of films, including Gym Teacher: The Movie, iCarly: iGo to Japan, Neverland, CSI: Crime Scene Investigation, Prince Gabriel, True Jackson; VP, The Penguins of Madagascar, and others.
Furthermore, Nathan Kress was able to receive the "168 Film Festival Jury Award" for the short film "Bag," in which he played a small-time drug dealer with a conscience in comparison to others.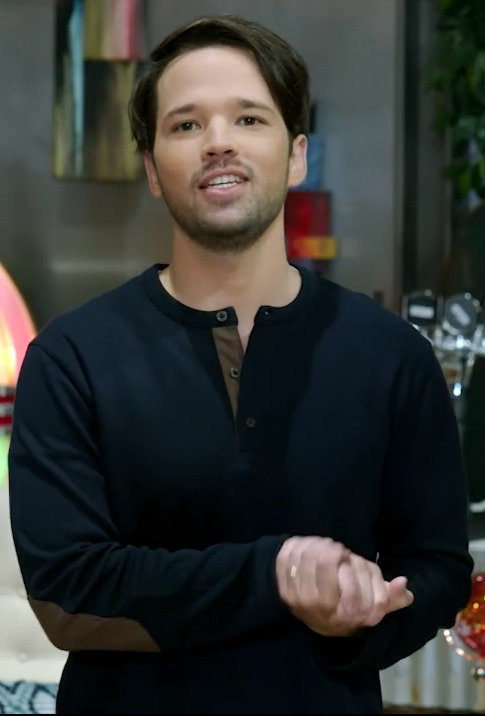 Nathan Kress's Relationship
On May 29, 2015, Nathan Kress proposed to his girlfriend, London Elise Moore. London Elise Moore is an actress, stunt performer, and a member of the cast of Into the Storm. They married on November 15, 2015, in Los Angeles, California. Rosie and Evie Elise Kress, the couple's two children, were born to them.
Nathan Kress's Networth
Nathan Kress has a net worth of $1.5 million, according to the internet, and his acting job is his primary source of income.
Nathan Kress's Body Measurements
Nathan Kress stands 5 feet 7 inches tall and weighs 65 kg, but his other bodily dimensions are unknown at this time. Kress also has brown eyes and brown hair.
Social Media: Instagram, Twitter
Nathan Kress maintains a high level of activity across all of his social media sites. On Instagram, he has 3.1 million followers, while on Twitter, he has 2.3 million. Similarly, he is active on Facebook, where he has amassed 2.1 million fans.
More Actor
Nathan Kress Fans Also Viewed