Kristen Angela Johnston is an award-winning film and theatrical actress from the United States. Kristen Johnston is best known for her performance in the television show "3rd Rock From The Sun." The Debt, her debut feature film, won Best Short Film at the Cannes Film Festival. She has been working in Tv Series, Mom, since 2018.

Childhood and Early Years
Kristen Johnston is a 53-year-old actress. She was born in Washington, DC, on September 20, 1967, but grew up in Fox Point, Wisconsin. Kristen Angela Johnston recently celebrated her 53rd birthday. Rod Johnstone, her father, was a former Wisconsin Republican state legislator. Her family and she relocated to Fox Point, Wisconsin.
Kristen attended St. Eugene's Catholic Grade School for her elementary education. After that, she attended Whitefish Bay High School. She was an exchange student in Sweden and South Africa when she was a teenager. She earned a Bachelor's degree in Arts from the University of New York in 1989 after finishing her education.
When Johnston was a teenager, she became addicted to drugs and alcohol. Johnston admitted to being a Vicodin addict. Furthermore, she admitted that she used to drink at least two bottles of wine every day.
Career
Kristen Johnston got her start as an actress in theatres and plays. She made her stage debut with the Atlantic Theater Company in New York, where she performed in a number of shows, including As You Like It and Stage Door. She then went on to work for Naked Angels Theater Company, New York Stage and Film, and Lincoln Center Theater, among others. For her performance in The Lights at Lincoln Center Theater, Johnston was nominated for a Drama Desk Award.
She has conducted a number of auditions for stars on television and on the big screen. Finally, in 1996, she was cast in the television series 3rd Rock from the Sun. With her appearance in the third rock series, she received two Emmy Awards for Outstanding Supporting Actress in a Comedy Series.
Johnston made her feature film debut in the 1993 Cannes Film Festival's Best Short Film, The Debt. Austin Powers: The Spy Who Shagged Me (1999), Ice Age, Absolutely Fabulous, Ugly Betty, and The Exes are among her credits. Her most recent project is the television series Mom, in which she plays a recurring part.
She also made an appearance in Sex and the City's sixth and final season. She appeared in six episodes of NBC's ER in 2005. She also played Patsy in a planned American adaptation of the British television comedy Absolutely Fabulous. The show was never picked up by a network, though. In the 2009 season of Ugly Betty, she made another appearance in a recurring role. In the second season opening of Bored to Death, she made a one-episode appearance as a dominatrix.
She also had a role in the TV Land sitcom The Exes. Between November 30, 2011, and September 16, 2015, the show aired for four seasons. In 2018, she began a recurring role on the CBS sitcom Mom, and in season 7 (2019–2020), she was elevated to series regular.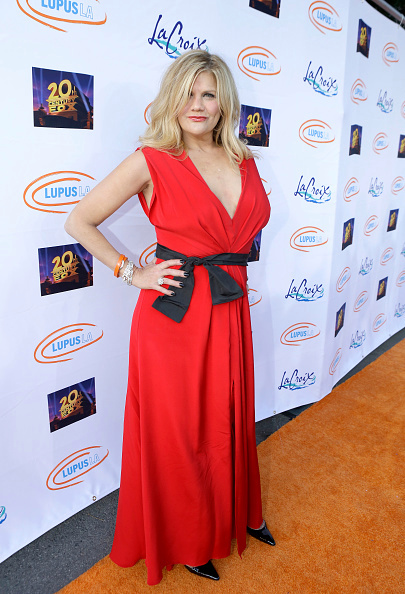 Nominations and Awards
Kristen Johnston is an accomplished actress who has won numerous awards. She has received numerous awards thus far. She received two Emmy Awards for Outstanding Supporting Actress for her participation in the TV series "3rd Rock from the Sun."
Her debut short film, 'The Debt,' was also nominated for Best Short at the Cannes Film Festival. She was also nominated for a Drama Desk Award for her performance in the plays "The Lights" and "So Help Me God."
Net Worth
Kristen's net worth is estimated to be at $15 million. She makes the most of her money as an actress in theatre, television programs, and films. Similarly, she earned $50,000 every episode on 'The Exes.'
Relationship
Kristen Johnston is rumoured to be unmarried right now. Her present relationship status is unknown to the media and the internet. She does, however, appear to be interested in actors, as both of her previous dates are well-known actors.
Kristen first dated actor David Newsom in 1996, and then Ryan Reynolds in 1997. (1999-2000). Similarly, she has highlighted her first love, Todd Weeks, on her Instagram page with the image above.
Body Measurement
Kristen Johnston is a tall woman, standing at 6 feet tall. She has a curvy figure. Her breasts are 36 inches, her waist is 25 inches, and her hips are 34 inches. Her dress size is ten, and her shoe size is ten and a half.
Social Media
Kristen Johnston is a social media powerhouse. She communicates with her fans primarily through Twitter and Instagram. Similarly, she has over a thousand Twitter followers and over 17.7k Instagram followers.
More Actress
Kristen Johnston Fans Also Viewed