Matt Baker is a well-known British television host. Matt Baker has been with the BBC for a significant amount of time. Furthermore, his experience as a junior gymnastics and acrobatics champion helped him in a variety of shows.

Childhood and Early Years
Matt Baker was born on December 23, 1977, and his full name is Matthew James Baker (age 44 years old). Mike Baker and Janice Baker raised him in Easington, County Durham, England. Matt's father maintained a news agency in the village where he was born, and his family owned a small farm. He also has three older sisters (two half-sisters), the names of whom have never been revealed to the public.
Matt Baker was a British gymnast and sports acrobatics champion during his junior years. However, at the age of 14, he had to give up owing to anaemia. After quitting gymnastics, he took up sheepdog trials and pole vaulting to fill in the gaps in his life.
Matt Baker went to Easington Village School until he was ten years old. His family later moved to the west side of Durham, where he attended Durham's Belmont Comprehensive School. He also enrolled in Durham Sixth Form Center for A-levels. Drama, Biology, and Sports Science were his topics of choice. Matt studied in Drama despite his desire to be a physiotherapist. In the 1990s, he enrolled at Edinburgh's Queen Margaret University College. During his college years, Matt Baker also worked as an entertainer in the 1970s comedic disco-dancing ensemble Disco Inferno.
Career
Matt Baker is a well-known television host who debuted on Blue Peter on June 25, 1999. Until June 26th, 2006, he was the show's host. Baker has been with the BBC since the start of his career.
Following his time on 'Blue Peter,' Matt Baker went on to host a number of television programmes. Animal Rescue Live, Countryfile Summer Diaries, and The One Show are just a handful of the memorable television programmes he hosted.
In addition, he was a gymnastics commentator for the BBC's coverage of the 2008 and 2012 Summer Olympics. In 2018, he and Meredith Vieira co-hosted Royal Wedding Watch. The Royal Wedding of Prince Harry and Megan Markle was covered for a week.
Matt Baker was a contestant on Strictly Come Dancing in 2010. He came in second place with his dancing partner, Aliona Vilani, a professional ballroom dancer. In addition, he portrayed Dick in the 2006 film The Queen's Handbag. In the production of Chitty Chitty Bang Bang, he also played Caractacus Potts.
He was a guest presenter of BBC One's magazine show The One Show from May to August 2010, filling in for Jason Manford. Later, he became the show's permanent host, co-hosting with Alex Jones from Monday through Thursday.
However, on Tuesday, March 31, 2020, he had his final broadcast on "The One Show," where he was alone at home rather than on the couch with co-host Alex Jones.
Matt appeared in an episode of the BBC drama series Cutting It in 2002. In 2005, he featured in an episode of the science fiction programme Doctor Who as himself, as the presenter of Blue Peter. In June 2006, he appeared in The Queen's Handbag as Dick from The Famous Five.
In 2008, he returned to his hometown of Sunderland to play Caractacus Potts in the Sunderland Empire's production of Chitty Chitty Bang Bang.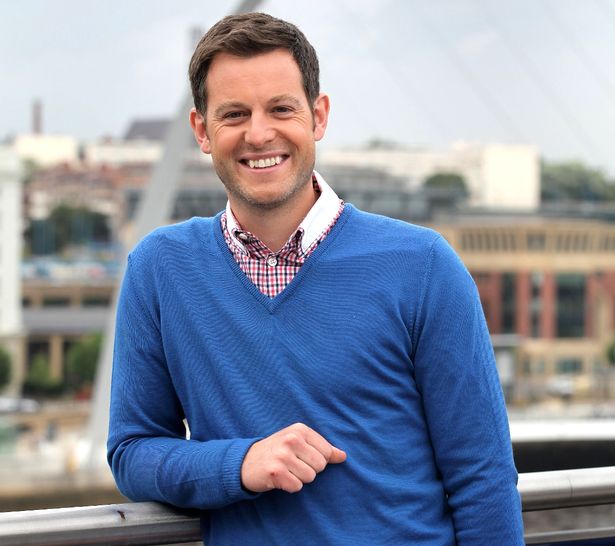 Achievements and Volunteering
Baker won the BAFTA award for Best Children's Presenter two years in a row during his seven years with 'Blue Peter.' During this time, he also received a Royal Television Society award. In 2011, he was also elected president of the National Federation of Young Farmers' Clubs.
In 2009, Matt Baker took part in Around the World in 80 Days. It's a BBC travel documentary intended to support and generate funds for the Children in Need charity. Baker also donates to organizations such as Hearing Dogs for Deaf People, Deerness Gymnastics Academy, and Grace House Hospice.
Net worth
He's also renowned for Doctor Who (2005), Blue Peter (1958), and The Itch of the Golden Nite, among other things (2011). Matt Baker's net worth is also estimated to be $10 million. However, due to his active engagement in many events, programs, and shows, it may rise in brief bursts.
Relationship
Since 2004, Matt Baker has been married to Nicola Mooney. They exchanged vows in Winston, Teesdale. When Baker was performing at Pier 39 in Cleethorpes, the couple met. Their son Luke Baker was born in 2007 and their daughter Molly Baker was born in 2009. The family is currently based in Buckinghamshire, England.
Body Dimensions
Matt Baker was an acrobat and a contestant on Strictly Come Dancing, thus he has a very flexible/athletic figure. He stands at 5'8″ (1.77 m) and weighs around 78 kg. His eyes and hair are both brown in tone, as well.
Social Media
Matt Baker is a new Instagram user. He made an account with the username @mattbakerofficial and stated in his bio that this is his first time using Instagram. Taking inspiration from this fella was the title of his first post on this account. #badhairday #chicken It was a video that was published on September 18th, 2019. He does not, however, have an account on any other social media platforms. He does, however, frequently appear on The One Show's official Twitter account (@BBCTheOneShow). They frequently tweet about Matt's visits and events on the show.
More Journalists
Matt Baker Fans Also Viewed