Kim Nam Joon is a rapper, composer, and record producer from South Korea. The primary rapper and leader of the popular hip-hop boy group Bangtan Boys is Kim Nam Joon (BTS).
Childhood and Early Years
Namjoon and RM are two nicknames for Kim Nam-Joon (formerly as Rap Monster). He was born in Ilsan-gu, South Korea, on September 12, 1994. He is 27 years old as of 2021. Kim Namjoon's family consists of his mother, father, and sister.
RM acquired English with his mother from an early age by watching the American television series "Friends." He was enthralled with uniforms in elementary school and aspired to be a security guard in the future.
He had the image of a tidy and polite student before his debut. He was a great performer on the national school exam during his school years. He even had a TOEIC score of over 900 and a high IQ of 148.
RM was a prolific poet as a student, winning numerous accolades for his work. Through an internet poetry website where he shared his work, he garnered some attention. RM became interested in a literary career as a result of this but ultimately decided against it.
After hearing epic High's "Fly" in the fifth school, RM became fascinated with hip-hop music at the age of 11. He found solace in the song that he delved deeper into the genre. RM developed an interest in lyricism after being introduced to Eminem, an American rapper, by his high school teacher. RM then moved on to composing songs, claiming that when his poetry was merged with music, it became lyrics. He began to print the lyrics and distribute them to his friends. RM began rapping in local amateur hip-hop circles with his self-composed tape in 2007, while he was a first-year middle school student.
He recently graduated from Global Cyber University with a bachelor's degree in Broadcasting and Performing Arts.
Professional life and Career
Kim Namjoon began his music career as a solo underground artist under the stage name Runch Randa long before he became RM.
On June 12, 2013, he made his debut as a member of the Korean boy band BTS. He was the very first member of BTS to join. Rapping, he said, helped him cope with the stress of his studies. His debut song, 'No More Dreams,' was inspired by the days when he stayed up late studying for his examinations. RM has worked on every BTS album since his debut.
In March 2015, RM and Warren G released their first single, P.D.D (Please Don't Die). He released his debut solo mixtape a few days later. 'RM'. With the release of his "Mono" mixtape on October 23, 2018, he made a comeback. He even released three music videos from his mixtape: "Moonchild," "Forever Rain," and "Seoul."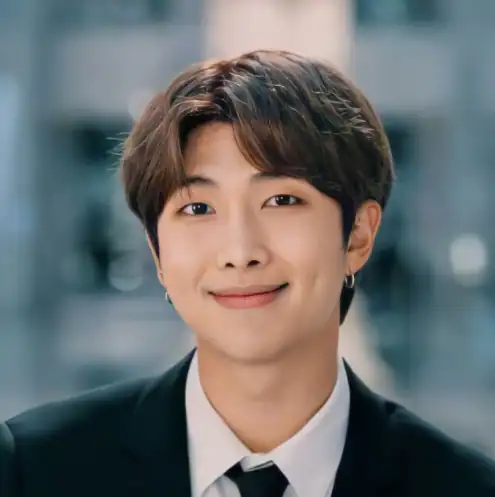 In addition, RM has written and produced over 100 songs to date. Wale, Warren G, Gaeko, Krizz Kaliko, MFBTY, Fall Out Boy, Primary, and Lil Nas X are among the artists with whom he has collaborated.
RM was elevated from associate to full member of the Korea Music Copyright Association in January 2020, alongside fellow BTS member J-Hope. They were joined by bandmate Suga, who had been recognized as a full member in 2018. On January 6, 2020, he was featured on Younha's song "Winter Flower," which was published.
Nominations and Awards
He has performed at a number of events and has received numerous honours. BTS, RM's band, was the first K-pop act to win a Billboard award. They've won Billboard's Top Social Artist Award three times in a row since 2017, beating out US faves like Justin Bieber and Ariana Grande.
On the BBMAs, Kim Namjoon was seen alongside BTS.
He and his band made a historic performance at the United Nations, where he gave a statement encouraging young people to "Find Your Voice." The President of South Korea awarded RM and his bandmates the fifth-class Hagwan Order of Cultural Merit in 2018 and as of 2021, they have Grammys nominations and many awards.
Networth
BTS has a net worth of around $60 million. In addition, RM has an estimated personal net worth of $8 million.
Relationship
The media has no knowledge of his dating life when it comes to his personal life. As a result, he is thought to be unmarried right now. He's the only BTS member who hasn't been linked to any dating rumours.
He, on the other hand, admitted to having a girlfriend in high school.
Body Measurement
With a height of 181 cm, Namjoon is the tallest member of BTS. He is one of the band's largest members, weighing roughly 67 kg. His eyes and hair are also brown in tone.
Social Media
Namjoon has a large fan base and is well-known not just in South Korea, but also throughout the world. He has around 28 million Instagram followers under the handle @rkive.
BTS's official Twitter account, for example, has roughly 22 million followers. Aside from Twitter, RM and its members are frequently active on Reverse, a platform built expressly for his label Big Hit Entertainment to engage with their fans.
More Singers
Kim Namjoon Fans Also Viewed