Israel Mobolaji Adesanya is a boxer, kickboxer, and martial artist. Former Glory middleweight champion and King in the Ring cruiserweight and heavyweight champion Israel Mobolaji. As a result, he became the interim UFC middleweight champion.

Childhood and Early Years
Israel was born on July 22, 1989, in Lagos, Nigeria, as Israel Mobolaji Adesanya. His mother, Taiwo Adesanya, works as a nurse, and his father, Femi Adesanya, works as an accountant. He is 31 years old and was born under the sign of Cancer. Deborah, Samuel, David, and Bolu are his siblings, and he is the oldest. Adesanya had the flexibility to compete in any sport he wanted as a kid, and he chose Taekwondo. He is a Brazilian Jiu-Jitsu blue belt.
He and his family relocated to Ghana for ten months in early 2001. At the age of ten, he moved to Rotorua, New Zealand, since his parents wanted their children to receive a well-recognized higher education.
Adesanya received his primary or elementary schooling at Chrisland School in Opebi, Lagos. Following that, he attended Bells Secondary School in Ota, Ogun State, for his high school education. He started martial arts classes when he came to New Zealand. Similarly, he was bullied a lot in high school and attributes his desire to explore martial arts later in life to the maltreatment he received.
The family eventually decided to relocate to New Zealand, where they settled in Rotorua, on the country's north island. He enrolled in Rotorua Boy's High School on a regular basis to finish his high school career.
Professional Life and Career
After seeing the 2003 Thriller/Action film 'Ong-Bak' in the year 2008, an 18-year-old Adesanya determined to abandon his studies and follow his interests in martial arts.
In 2009, the youth spent a year training in Muay Thai and defied his coach's (Derek Broughton) wishes by having his first and last amateur MMA fight with a man named Neroni Savaiinaea. Despite the fact that Adesenaya lost the fight, he learned from the experience.
Eugene assisted Adesanya in mastering the fundamentals of boxing and kickboxing. Despite a few losses in the aforementioned combat sports, Adesanya worked exceptionally hard after beginning his professional MMA career in 2012 to avoid future losses. He also became the first New Zealander to sign a deal with the Glory promotion business in March 2014, after spending six months competing for full-time in China.
He had an 11-0 record in his early career, with all of his victories coming through KO/TKO. He signed a deal with the UFC in December 2017 and made his debut against Rob Wilkinson at UFC 221. He also earned the Performance of the Night bonus after winning the bout by TKO in the second round. At UFC on Fox 29, he defeated Marvin Vettori by split decision on April 14, 2018. His most recent match was against Gastelum on April 13, 2019.
He next fought Yoel Romero in the UFC 248 on March 7, 2020. He even won the battle by unanimous decision and successfully defended his UFC middleweight title for the first time.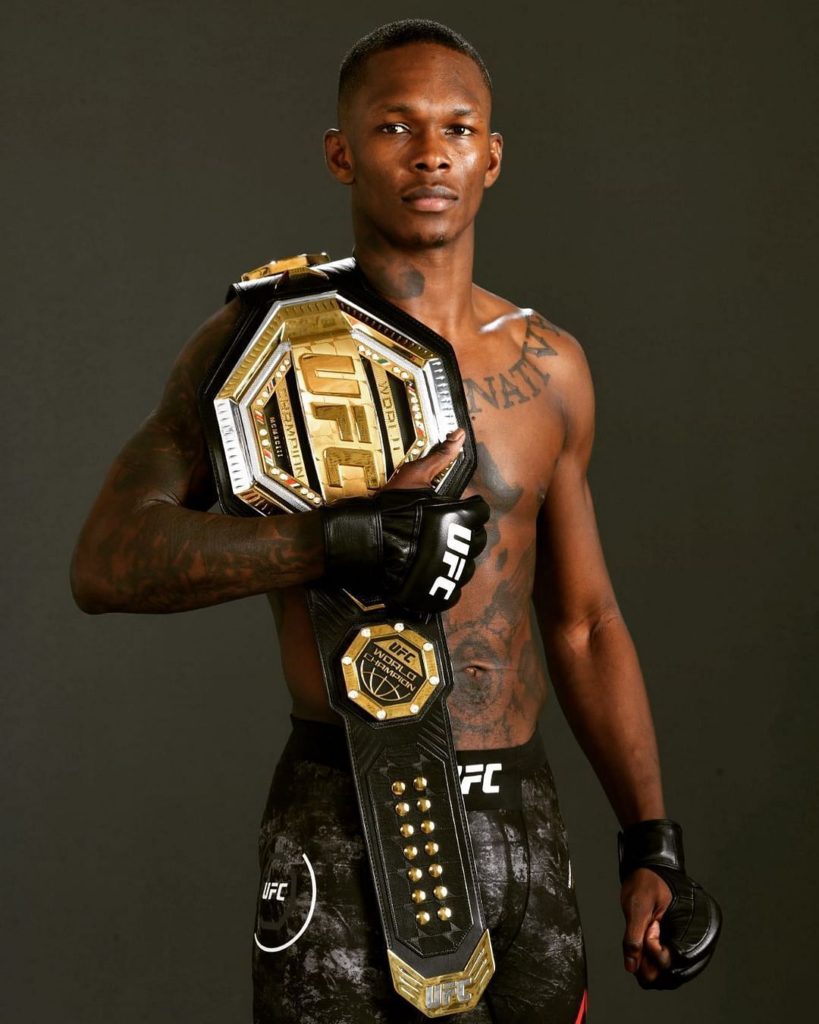 Nominations and Awards
Israel Adesanya, a well-known fighter, has received numerous accolades. On July 6, 2018, he received the Performance of the Night award against Brad Tavares, and on February 10, 2019, he won the Fight of the Night award at UFC 234. He has also received other awards, including 2018 Newcomer of the Year, 2018 Breakthrough Fighter of the Year, 2018 Rising Star of the Year, and many others.
Net worth
In terms of earnings, he has a total of $558000 from his UFC career thus far. Israel's net worth is expected to be $2 million in 2021. Similarly, at UFC 230, he received a career-high $172,000 in match earnings, which comprised $59,000 to show, a $59,000 victory bonus, $50,000 performance of the Night prize, and a $4000 fight week incentive pay. In addition, he was paid $112,000 at TUF 27, including $56,000 for showing and $56,000 for winning.
Israel became the first mixed martial arts athlete to sign a sponsorship deal with Puma in September 2020. In January 2021, he also signed on as an ambassador for Stake.com. Apart from that, he has advocated the cannabis referendum in New Zealand in 2020.
Relationship
Israel is now concentrating on his burgeoning profession. Furthermore, there is no information about Israel Adesanya's girlfriend, previous love affairs, or partnerships. With a masculine body structure and a dashing appearance, Adensayan is recognized as one of the hottest men in the profession. In addition, he is currently single and solely focused on his job.
Before taking up fighting, he also competed in dance events all around New Zealand. In a choreographed walkout at UFC 243, he showcased his love of dance. He enjoys anime and plans to launch an anime production firm after he retires from combat. Similarly, his nickname "The Last Stylebender" is a homage to the anime series Avatar: The Last Airbender.
Body Structure
He is proud of his Nigerian heritage and has a tattoo of Africa with Nigeria outlined on his torso. He stands 6 feet 4 inches tall and weighs around 84 kilograms.
Social Media
He can be found on social media platforms such as Instagram and Twitter. On Instagram, he has 3.7 million followers, while on Twitter, he has 177K followers.
More Sports
Israel Adesanya Fans Also Viewed