Chiara Ferragni is an entrepreneur and fashion blogger from Italy. Chiara Ferragni's blog "The Blonde Salad" is well-known. She's also been named to the Forbes 30 under 30 list three times.

Childhood and Early Years
Chiara Ferragni was born in Cremona, Italy, on May 7, 1987. She will be 34 years old in 2021. Marco Ferragni and Marina Di Guardo are her parents. Her father is a well-known Italian dentist, and her mother is a writer. She has two sisters, Valentina and Francesca, as well. In addition, she has a dog named Matilda.
She studied at Milan's Bocconi University. She was a law student at the time. Furthermore, when New York Magazine dubbed her "One of the biggest breakout street-style stars of the year" in 2011, she was still a student. Ferragni, on the other hand, has not completed her university education.
Career
Ferragni rose to stardom for her fashion blog The Blonde Salad while still a university student. She started her blog in 2009, and in March 2011, New York magazine named her one of the most exciting new street-style stars. Teen Vogue named her "Blogger of the Moment" the same year. She has also worked with a number of well-known fashion labels, including Christian Dior, Louis Vuitton, Tommy Hilfiger, Gucci, and Guess. She also featured as a guest judge on "Project Runway" in season 13 in August 2014.
She is also the designer behind the Chiara Ferragni Collection. She was chosen to design costumes for the fourth edition of "Intimissimi on Ice" by the Italian brand Intimissimi. Similarly, her collections and designs encompass shoes and clothing.
Ferragni, likewise, is a model. She has been on the covers of more than 50 fashion magazines, including Vogue. In 2013, she also modelled for the Guess fashion line. She's also a published author. In December 2013, she released "The Blonde Salad," an e-book. It's an eBook written in Italian. She was also named Pantene's global ambassador. In addition, on July 26, 2017, Chiara Ferragni inaugurated her first Chiara Ferragni Collection store in Milan.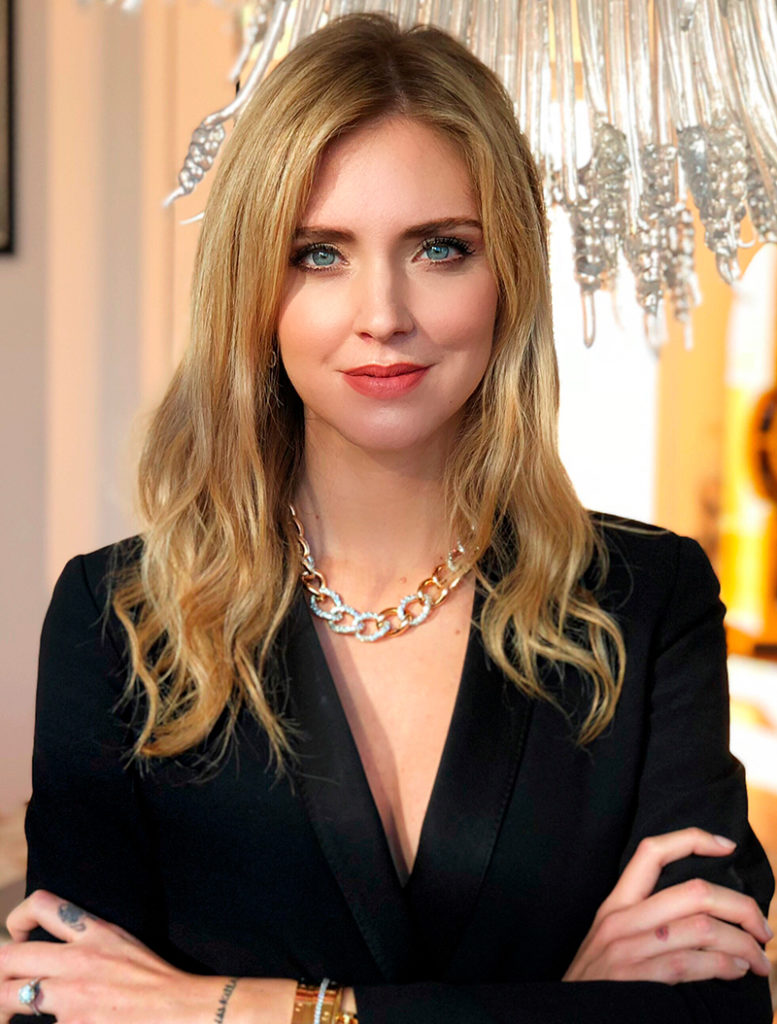 Achievements and Net Worth
Since 2011, Chiara Ferragni's fashion blog "The Blonde Salad" has won numerous honours and titles. Ferragni's first accomplishment was being named one of the biggest breakout street-style stars in 2011 by New York magazine. Teen Vogue dubbed her "Blogger of the Moment" in the same year.
She's also been named to Forbes' 30 Under 30 list twice. In 2017, she was also named to Forbes' "Top Fashion Influencers" list. Her collection was featured as a case study at Harvard Business School in 2015, and Mattel Inc. released a Barbie version of Chiara in 2016.
She also has an estimated net worth of $8.5 million.
Relationship
Chiara Ferragni is married to Fedez, an Italian rapper who goes by the stage name Federico Lucia. They began dating in late 2016, were engaged in May 2017, and married on September 1, 2018. The pair married in Dimora Delle Balze, Sicily, Italy, in a non-religious ceremony. They also welcomed a son, Leone, on March 19, 2018, just a few weeks before their wedding. Between Milan and Los Angeles, the tiny family currently resides.
Body Dimensions
Chiara Ferragni is a thin woman who weighs 55 kg and measures 5'10" tall. She has blue eyes and natural blond hair as well. She does, however, play around with her hair colour. She's worked with a variety of hair hues, including brown, red, peach, and honey blonde. She also follows the American standard and wears a size 2 dress, size 8.5 shoes, and a size 32A bra. Her chest, waist, and hip measurements are 33-24-34.
Social Media
Chiara is a frequent user of social media. Her official YouTube channel has over 137k subscribers, 21.8 million Instagram followers, and 407k Twitter followers. Her status posts are about both her profession and her family. She and her spouse routinely publish photos of themselves and their baby on social media.
More Entrepreneur
Chiara Ferragni Fans Also Viewed