Alexa PenaVega is an actress, singer, and pianist from the United States. Alexa PenaVega rose to prominence as Carmen Cortez in the 'Spy Kids' trilogy and Shilo Wallace in the film Repo! the Genetic Opera during her adolescent years. In 2009, she starred as Ruby Gallagher in the ABC Family sitcom Ruby & The Rockits as the title character.

Childhood and Early Years
Alexa PenaVega was born in Miami, Florida on August 27, 1988, as Alexa Ellesse Pena Vega. Her father is fashion photographer Baruch Vega, and her mother is Gina Rue (former model). They went to California with her parents when she was four years old. Makenzie Vega, Vega's sister, is one of Vega's many siblings (also an actress). Krizia Vega, Greylin James, Cruz Hudson Rue, Margaux Vega, and Jet James are their siblings.
She is of Hispanic ancestry and holds an American nationality. She is also 32 years old and belongs to the Virgo zodiac. She was homeschooled as a youth. Following that, he attended Notre Dame Catholic High School.
Career
Her acting career began when she was five years old in the film Evening Shade. Carmen Cortez was her breakout role in the Spy Kids Trilogy. Walkout, Repo! The Genetic Opera, Innocent, From Prada to Nada, Machete Kills, and others are among her other films.
She appeared in the films 23 Blast, The Remaining, Machete Kills, Bounty Killer, Wicked Blood, and The Hunters in 2013 and 2014. She even appeared in the Big Time Rush series finale, "Big Time Dreams," as a guest star. She played Lacey in the 2015 film Do You Believe?
She was a contestant on the 21st season of Dancing with the Stars in 2015. Carlos PenaVega, her husband, also competed in that season. Mark Ballas, a professional dancer, was her partner. She and Ballas were eliminated on November 9 and placed sixth in the competition.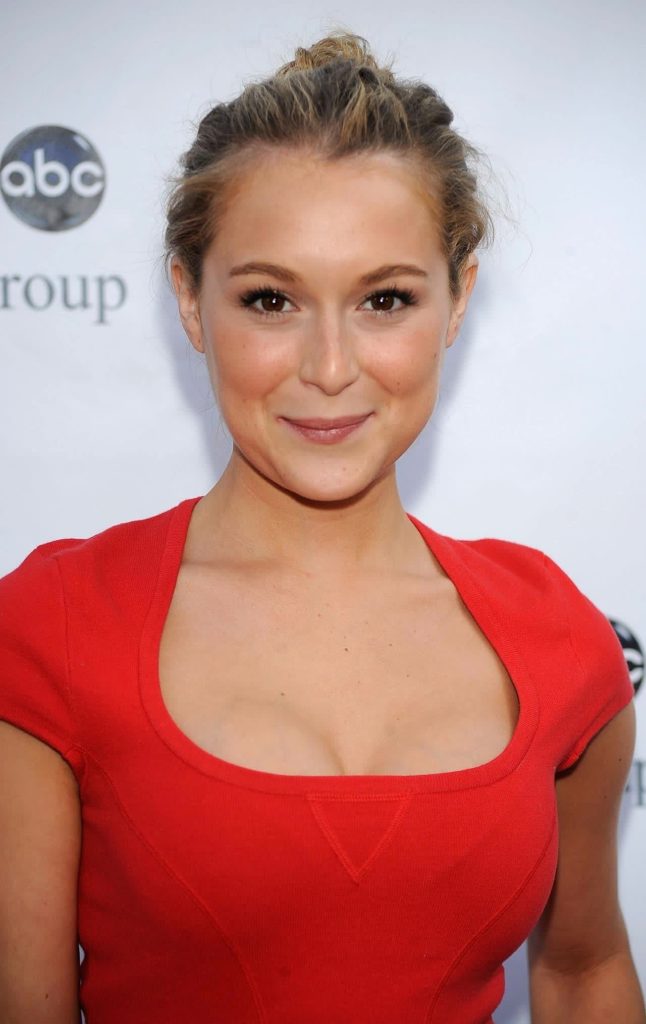 She and her husband Carlos starred in the Hallmark Movies & Mysteries TV film Picture Perfect Mysteries: Newlywed and Dead in 2019 and the sequel Picture Perfect Mysteries: Dead over Diamonds in 2020.
While playing Carmen Cortez in the Spy Kids movie, Alexa Pena Vega recorded three songs for the soundtracks. Then, to coincide with the release of the second film, she released her debut song, "Isle of Dreams." For the third film, she also released songs like "Game Over" and "Heart Drive," which featured Bobby Edner. She also composed music for the film Repo! The Genetic Opera, which was released in 2008.
Christmas is the Time to Say 'I Love You,' a song by Vega, was first performed during the 25 Days of Christmas. She also has a YouTube channel, LexLovesLos, which she and her husband co-own.
Awards
Alexa Vega earned the 'Young Artist Award' in 2003 for her performance in 'Spy Kids 2: Island of Lost Dreams in the category of 'Best Performance in a Feature Film – Leading Young Actress.' She was nominated for the ALMA Awards twice, as well as the Imagen Awards, and she was even tagged in them. In 2007, she was also nominated for the 'Black Reel Awards.'
Networth
Her acting and singing careers really aided her in increasing her financial resources. Her car is a BMW. She owns a lavish home in Los Angeles. Her current net worth is estimated to be approximately $16 million.
Relationship
Vega has had two marriages. Sean Covel, a film producer with whom she married on October 10, 2010, is her ex-husband. Her marriage ended in divorce after only a few years. The following year, she became engaged to Carlos Pena Jr. and married him on January 4, 2014, in Puerto Vallarta, Mexico. PenaVega became the couple's wedded name.
Ocean King (born December 7, 2016) and Kingston James PenaVega are their two darling children ( June 30, 2019). She is currently a happy family living in Los Angeles with her husband and children. Similarly, the couple announced in December 2020 that they are expecting their third child, a girl.
Body Measurements
Despite her short stature (she stands at 5 feet and 1 inch), she is quite attractive. Her weight is 48 kg, and she has dark brown hair and hazel eyes. Her bust, waist, and hip measurements are 35-25-33. Her dress size is 6 (US), and her shoe size is 7. (US).
Social Media
Above all, PenaVega has a large following on social media platforms such as Facebook, Twitter, and Instagram. She now has 442.1k Twitter followers, 1.6 million Instagram followers, and 580,818 Facebook followers. Similarly, she and her husband Carlos Penavega share a YouTube channel. She can interact with fans and followers on social media.
More Actress
Alexa PenaVega Fans Also Viewed